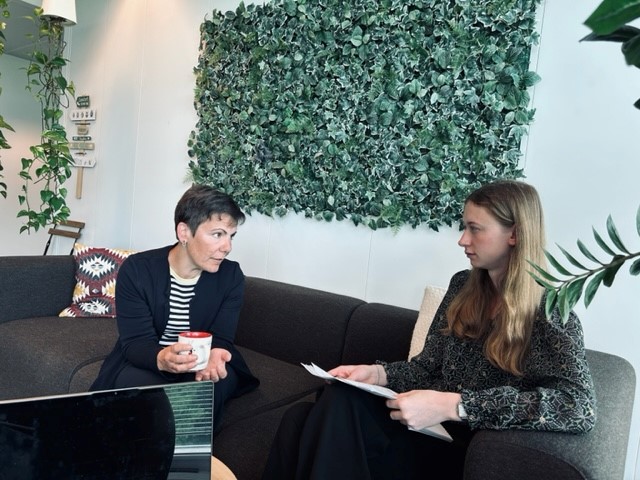 ENTREPRENEUR FOR A DAY AT CALYSTA
How did you experience 1 Day Entrepreneur at Calysta (what was the most remarkable of this experience)?
This one day as an entrepreneur has really been an amazing experience which has allowed me to witness the daily challenges of managing a company from HR to management. What has been truly remarkable was to acknowledge the complexity and diversity of running a business. Moreover, the EFAD project gave me the opportunity to meet such talented people willing to share their knowledge and inspire me for my future career.
Which approach of what you saw today would you definitely apply in your future career?
What I would definitely apply in my future career, is the importance of understanding the people you are working with and how to interact with them in order to create a dynamic work environment. Moreover, I was really pleased to witness a company with talented people who are passionate about what they do.
What did you learn today?
I learned that creating a company was something which is very complex and that requires a wide range of skills: from the ones linked to the direct activities of the business to HR, accounting and finance.  Furthermore, I realized that soft skills are as important as hard skills for running a business successfully.
What was your sentimental feeling at Calysta, the intro, welcome, the people?
As soon as I arrived, I could notice that the people at Calysta were extremely welcoming and always ready to help or answer any question. Throughout the day, I was happy to observe that people working at Calysta were very motivated about their work and dedicated to the development of the company.
If you could give one tip to the CEO of Calysta, what would it be?
During the day, I was able to notice that Ludivine Coulon is very passionate about her work, about the challenge of managing Calysta, about helping her clients' businesses and that she really cares about the people she works with. Therefore, I would recommend her to stay as she is and true to her values.
After one day Entrepreneur what would be your Calysta Pitch?
Calysta is an expert in the field of intellectual property, composed of a team of passionate and highly skilled professionals dedicated to protecting and defending your intellectual property assets. In addition, they focus on understanding your business, which allows them to tailor their services and  strategy to meet your specific needs.